Everything you need to host a website! Larger packages are available. Start out small and upgrade later if required. Plans are billed in twelve month increments. Once payment is made, please allow at least 24 hours for your account to be created and your hosting instructions to be emailed to you.
Remember, once you've selected your hosting package above, you will be taken to the PayPal page for that plan. When verified, you will be emailed your hosting login instructions and cPanel access- generally within 24 hours.
Click here to open a screenshot of Artwebsites' Hosting cPanel in a new window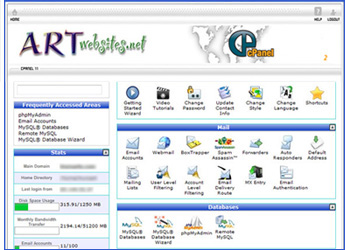 All plans include these control panels and many more!: Getting Started Wizard, Video Tutorials, Unlimited Email Accounts, Box Trapper, Spam Assassin, Forwarders, Auto Responders, Default Address, Mailing Lists, User Level Filtering, Account Level Filtering, Email Delivery Route, Import Addresses Forwarders, Email Authentication, MX Entry, Mobile Pushmail, Backups, Backup Wizard, File Manager, Legacy File Manager, Web Disk, Disk Space Usage, FTP Accounts, FTP Session Control, Anonymous FTP, Latest Visitors, Bandwidth, Webalizer, Webalizer FTP, Raw Access Logs, Error Log, Choose Log Programs, Awstats, Password Protect Directories, IP Deny Manager, Hotlink Protection, GnuPG Keys, Subdomains, Addon Domains, Parked Domains, Redirects, Simple DNS Zone Editor, Advance DNS Zone Editor, MySQL Databases, My Database Wizard, php MyAdmin, Remote MySQL, QuickInstall, CGI Center, Site Software, Perl Modules, PHP PEAR Packages, PHP Configuration, RubyGems, Ruby on Rails, Optimize Website, php.ini EZConfig, Fantastico De Luxe, Apache Handlers, Image Manager, Index Manager, Error pages, Cron jobs, FrontPage Extensions, Network Tools, Website Templates, MIME Types.
Prohibited Sites: Mass Email, Spam and Spam Resource Sites; Pornography; Phishing Sites; IRC, Chat programs, Gaming Sites, Bit Torrent; Multimedia Sites; Network Scanning, Sniffing.